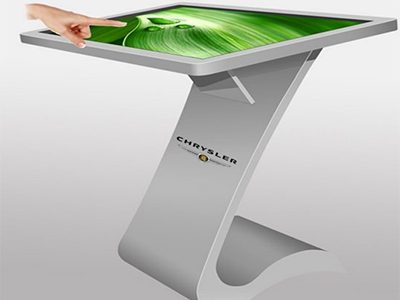 Capture customers insights
Centrally track and analyze customer inquiries, feedback and behaviour to fine-tune the customer experience. Our team will discuss the needs of your business and what your goals are for your interactive kiosk systems. We create a custom kiosk hardware based on how you and your customers will utilize and interact with your kiosk system.
Atlantic Canada's fastest growing Out of Home Digital Ad Network
Our position on the front lines of touch screen kiosk and digital signage advancements fuels innovation and our clients' success. For today's solutions, we invest in tomorrow's technologies.
Digital signage With Virtual Media Masters
Digital signage is a sub segment of signage. Digital signages use technologies such as LCD, LED and Projection to display content such as digital images, video, streaming media, and information. They can be found in public spaces, transportation systems, museums, stadiums, retail stores, hotels, restaurants, and corporate buildings etc., to provide wayfinding, exhibitions, marketing and outdoor advertising. Digital Signage market is expected to grow from USD $15 billion to over USD $24bn by 2020
Equipment and network infrastructure
Digital signs rely on a variety of hardware to deliver the content. The components of a typical digital sign installation include one or more display screens, one or more media players, and a content management server. Sometimes two or more of these components are present in a single device but typically there is a display screen, a media player, and a content management server that is connected to the media player over a network. One content management server may support multiple media players and one media player may support multiple screens. Stand-alone digital sign devices combine all three functions in one device and no network connection is needed. Digital signage media players run on a variety of operating systems including Windows, Linux, Android and IOS.
LCD and LED displays
Digital sign displays may be LCD or plasma screens, LED boards, projection screens or other emerging display types like interactive surfaces or organic LED screens (OLEDs). Rapidly dropping prices for large plasma and LCD screens have led to a growing increase in the number of digital sign installations.  An array of these displays is known as a video wall.
Digital signage displays use content management systems and digital media distribution systems which can either be run from personal computers and servers or regional/national media hosting providers. In many digital sign applications, content must be regularly updated to ensure that the correct messages are being displayed. This can either be done manually as and when needed, through a scheduling system, using a data feed from a content provider (e.g. Canadian Press, Data Call Technologies, Bloomberg LP, Thomson Reuters, AHN), or an in-house data source.
Whenever the display, media player and content server are located apart there is a need for audio-video wiring between the display and the media player and between the media player and the content server. The connection from media player to display is normally a VGA, DVI, HDMI or Component video connection. Sometimes this signal is distributed over Cat 5 cables using transmitter and receiver baluns allowing for greater distances between display and player and simplified wiring. The connection from media player to content server is usually a wired Ethernet connection although some installations use wireless Wifi networking.