Interactive Kiosks Provides Amazing User Experience While Capturing Data
Our Giant Touch Screen is a kiosk that will engage customers while giving them product knowledge. Our multi-touch display offers the best possible viewing experience, providing HD content, while building a strong connection to your brand.
The clunky, expensive kiosks of yesterday are becoming irrelevant in today's world of elegant low-cost touchscreen devices. Whether clients want to capture email addresses, enable customers to sign up for events in the store or add interactive elements to their artwork, a touchscreen kiosk can deliver the results they're looking for. Tablet kiosks can be integrated into any decor smartly and sleekly. Now that affordability is no longer a factor, you can start working with clients to develop apps that bring imagination back to their business solutions.
Floor Model Kiosk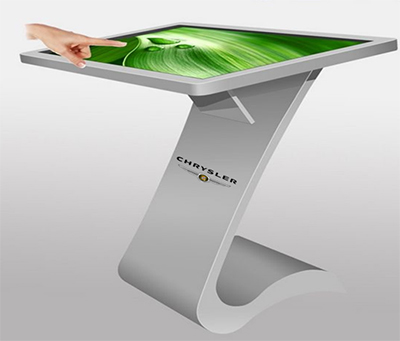 Kiosk Usage
Automotive Showrooms
Real Estate Agents
Factory Distributor
Exclusive Agents
Property Developers
Shopping Malls
Modernize and improve your business by adding a Touch Screen Computer Kiosk to your location. Not only do these wireless Touch Screen Computer Kiosks increase sales, but they also enhance any company's image. It is an elite advertising tool that works as a giant smart phone or tablet. The touch screen surface makes browsing through various products fun and easy to use. You can use the kiosks to show customers your website and share products not available in stores. You can create slideshows of products or services you offer, or make a video jukebox and play music with the 2 built-in high quality stereo speakers. There are many more ways that you can use it.
These computerized kiosks have a large touch screen keyboard that makes typing content very easy. These interactive kiosks offer the ability to streamline many other aspects of the business that normally require human interaction such as accepting job applications, processing credit applications, managing gift registries and purchasing gift cards.
Built-in Computer - These kiosks are complete first class computers with a Windows 10 operating system. They are fully touch screen with an interactive touch screen keyboard. They have a 1080p high definition monitor with tempered glass. Connects easily to a printer, scanner and other network devices.
Like a Giant Tablet - Works like a giant wireless smart phone and tablet. Can be displayed in portrait and landscape. Your employees and customers can browse your website and surf the Internet. It has WiFi, 2 USB ports, 8GB Ram and an Intel HD display card. Highest quality components with CE-lvd and FCC certifications.
Improves Your Business - It will help to increase sales and enhance the image of any type of business. These kiosks are gorgeous. They look beautiful in any showroom, office or lobby. Advertise your additional products and services. Use it like a video jukebox. Download music or play YouTube. Create product slideshows with music. It has 2 built-in high quality stereo speakers.
Comes Ready to Go - Just take it out of the crate, plug it in and turn it on. It's fun and easy to use for employees and customers. Very slim profile with mild steel and aluminum edge. They're extremely durable for high traffic areas. Plug it into any regular 110 volt electric outlet. You can use the wooden crate that it comes in to safely transport the kiosk to trade shows.
Free 1 Year Warranty - Has a free full 1 year warranty. Every kiosk is built with strict quality control and top tier craftsmanship. They are inspected and completely tested before delivery to our customers